Is an exposed air-conditioner ruining your home's curb appeal? Are you looking for a simple, affordable way to conceal that unsightly A/C unit from view? Fortunately, there's a creative solution for this issue that's both budget-friendly and easily implemented.
The following DIY projects will generate ideas for making your own visually appealing structure that enhances any A/C unit's appearance. All you need to get started are basic building materials, Pinterest access and a crafty frame of mind.
First, ensure that your structure functions efficiently:
Building an ornamental fence is the most effective option for covering up your air-conditioner. Maximize the structure's breathability by adding a screen for sufficient cross-ventilation. Also, leave enough space for repairmen to reach the A/C unit, if needed. Installing a gate or doorway can facilitate this requirement.
Don't stack materials on top of your air-conditioner. If the unit's fan is blocked, proper air-flow will become inhibited. Accommodate this specification by creating a lid on the structure which can easily be opened, lifted or removed.
In addition, surrounding the air-conditioner with crushed stone accents allows for adequate drainage, while making sure the unit stays level and its coils are protected from grass or dirt. Crushed stone improves the overall design aesthetic as well.
Next, precisely plan your structure's clearance height:
During construction, leave approximately 1-3 feet of horizontal space beside the air-conditioner. If you also intend to build a ceiling above your A/C unit, leave approximately 4-6 feet of space and ensure there is sufficient air flow. Otherwise, heat pressure will build up inside the structure, causing potential long-term damage. Check the owner's manual for the specific clearances recommended for your unit.
Now, for the enjoyable part — time to get crafting:
Looking for an inspired way to cover your air conditioning unit? These DIY projects will add charm to your home's facade, while keeping that A/C unit camouflaged and protected.
Herb Garden
Cover your air-conditioner with an herbal garden made from earthy sandstone bricks. This structure particularly complements desert-esque landscaping. In addition, a screened lid gives maintenance crews easy access to the unit.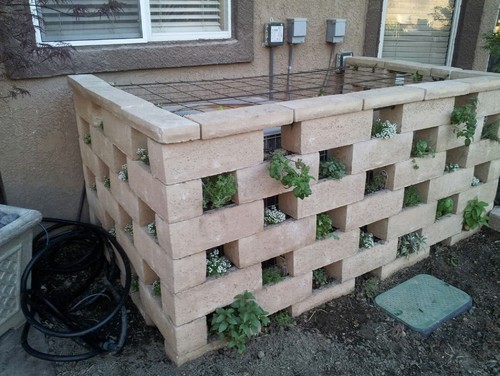 Trellis
Cover your air-conditioner with a country garden trellis featuring delicate latticework. Purchase wooden panels and fence posts from a home improvement center, then start building. Remember to leave a wide opening on top.
Mini Cottage
Cover your air-conditioner with a miniature cottage that boasts custom decorative touches. Wood finials and cutouts create a "homey" space for the unit that keeps you cool on hot days. Plus, this structure is lightweight enough to lift.
Potted Garden
Cover your air-conditioner with a potted garden of flowers, shrubs and whimsical accents. Erect a rustic-looking fence to enclose the A/C unit then adorn the surrounding area with beautiful blooms of diverse shapes, sizes and colors.
Mosaic
Cover your air-conditioner with hand-crafted mosaic paneling constructed from found materials. Smash china, stained glass and mirrors then arrange the shards artfully. Attach this mosaic to a deck post and place in front of the unit.
So, don't settle for lackluster curb appeal as a result of that drab A/C. With creative inspiration and a trip to your local home improvement center, you can resourcefully (and economically), turn this utilitarian machine into a thing of beauty.